Quickly look-up any selected word!
I have made this helpful little extension for the Google Chrome browser.
It helps you when you need to look up a word. It does so by adding a line to the context menu, when you right-click any selected word on the webpage.
Find the sourcecode on GitHub.
There is no affiliation with Ordbogen.com A/S.
Any questions? Please post them here...
Det nye år er så småt igang, og det skal da nok blive et godt år. Jeg er ved at komme ovenpå igen...

Men nå... som sagt året er igang, og jeg har eksaminer stående for døren. Den første er den 10. januar, og den er jeg igang med forberedelsen til. Den sidste ligger i slutningen af januar engang, den 27. mener jeg.

Tja nu er der snart eksaminer, selvom jeg næsten kun synes at have overstået min studentereksamen.
Men ellers kan jeg kun sige at alt går som det skal, og at jeg er meget tilfreds med mit valg af studie. Vi laver masser af utrolig interessante ting, og alle relateret til computere, hehe.
Mit skema for 1. kvarter, som er den første fjerdedel af studieåret, ser sådan her ud. Og det er jo meget passende, selvom der godt nok kun fremgår 28-29 lektioner af skemaet, bruger jeg også ca. 30 timer hjemme foran bøgerne/computeren.
Men så længe det er sjovt, så er det jo fint.
CPUTemp©
På et andet plan så har jeg fået mit SpeedStep til at virke med AC-tilslutningen sat til. Det gjorde den ikke før, hvilket resulterede i, at hver gang jeg satte strøm til, så blev computeren overophedet.
Jeg har i øvrigt også skrevet dette lille script, som måler CPU'ens temperatur. Det gjorde jeg selvfølgeligt for at kunne måle min temperatur. Fordi for at gøre det, så kunne jeg ikke undgå at skulle installere et eller andet vold-stort program. Og det var typisk et program, der kunne lave grafer og tegne og komme med råd om mit sexliv, osv... og det var lidt overkill, bare for at måle temperaturen.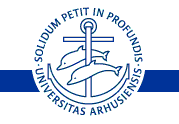 Den 24. august starter jeg på Aarhus universitet.
Det var to gode dage i Odense.
Jeg fik set universitetet, da jeg bare fulgte min makker
Ole
's anvisninger, og det var rigtig godt.
Det viste sig at datalogi studierne indeholder lige netop de ting jeg håbede på. Ud over det, så fik jeg også et rigtig godt indtryk af de sociale forhold blandt de studerende. Mest fordi Ole var indviteret til en fødselsdagsfest, hos en kammersjuk, og han havde fået lov at tage mig med :) -
Her er lidt billeder jeg tog derovre.